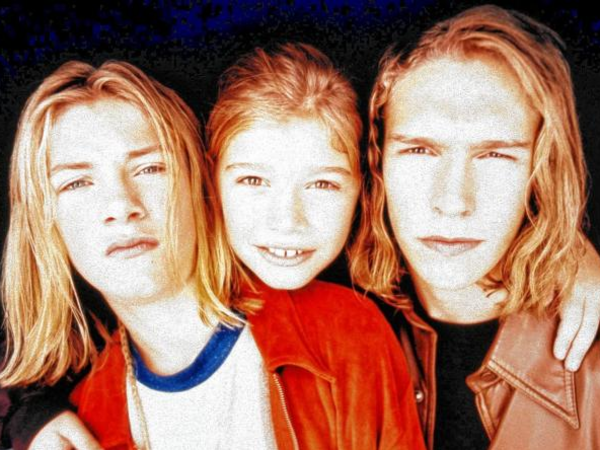 You know who these guys are, right?
Since 1997, when they came Mmmbopping into my life, I have been a dedicated and devout fan of the three boys from Tulsa. Sure, I may have questioned my sexuality due to
my attraction to Taylor
and I may have shouted for joy when I found out that Taylor was, in fact, a HE and not a SHE.
I feel like I've grown up with the guys, being that I'm only 3 months older than Taylor. I've listened as they've evolved in their sound and grown in their style, yet remained true to who they were. To be a Hanson fan is so much more than just liking the music or having a "crush" on a certain guy. You defend your fandom, because people will give you hell over liking them.
Friday (10/18), my bestie Patty and I made our way to Cincinnati to catch a Hanson concert. This was my 3rd show, her 2nd. We were both SUPER excited for the show. Before most shows, they do
a walk
for 1 mile. Our walk was at 3, so we made sure to sign up and be there in time. We walked with the guys, sometimes being right next to them (although talking to them during this is hard because of all the other fans). After that, they went to do meet and greets and whatnot. So Patty and I checked out this pizzeria called Mio's. AMAZING food AND, you get to sample everything they have on draft. Bonus points.
The doors opened at 7 and the opening act, who's name is David Ryan Harris, went on at around 8. He was pretty good. At 9ish, the band came on. And, naturally, they totally rocked. I was SO excited when they played a song called "
Tragic Symphony
" which is my favorite song off
Anthem
, their latest CD.
We went around to the back of the building after the show and stood in the cold with the hopes of meeting them and getting their autograph. It took FOREVER, but they finally came out....well, two did. Isaac and Taylor came out, Zac stayed on the bus. We think he was sick, but don't hold us to that. The wait was TOTALLY worth it, though, because we got to not only get their autograph, but we got our picture taken with them. OH EM GEE! Patty took the picture of Isaac and I and had covered the flash. So he grabbed the camera and took a selfie with me. He wanted to make sure we had a good picture!
Without further ado, here's some pictures!
Patty (l) and I, waiting for the show to start
Taylor, midway through the walk
Isaac, midway through the walk
Zac's back, on the way back to the venue
Patty (l) and I, midshow
Me and Isaac (he TOTALLY took this pic!)
Me, Taylor, and Patty. EEEEEK
If you want to see ALL the picture, click
HERE
(note, this is my personal Facebook page.....)
I can't WAIT until they come back around, so I can see them again. I got some motivation, through my picture with the guys though. But I'll post about that later!